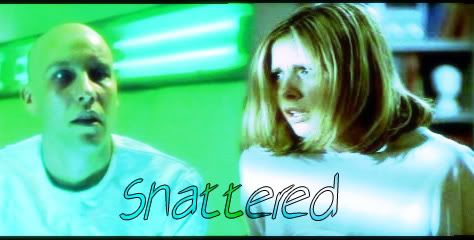 Title:
Shattered
Author:
Silver Moon Star
Rating:
M
Disclaimer:
Buffy belongs to Joss Whedon. Smallville belongs to WB11 and Jerry Siegel.
Summary:
AX-Over. Buffy leaves Rome to help an old friend.
Timeline:
After the Buffy Series Finale so around the time of the Angel Episode Damage. Smallville Season 3 between the episodes 'Shattered' and 'Asylum'.
Quote:
Buffy: (sighs) Back when I saw my first vampire. I got scared. I told my parents...and they completely freaked out.

Willow: (shocked: You never said anything.

Buffy: (tearful) I was only there a couple of weeks. I stopped talking about it, and they let me go....
Part 1
Rome, Italy

- Summers Residents aka Scooby HQ
After the battle with the First; Faith and Robin Wood went to 'play house' on the Cleveland Hellmouth. Enlisting the help of Watchers who survived the attack by the First, Buffy and the rest of the Scoobies...plus Andrew gathered up the New Slayers now roaming the world.
At the moment the Scoobies were gathering from all parts of the world, Willow and Kennedy from Brazil, Xander from Africa, and Giles who was now training Andrew for Watcher from England.
The purpose of this meeting to discuss the capture of a New Slayer, and Angel's new position at Wolfham & Hart.
"So what do we know about this girl?" Buffy asked as she walked the room
Willow was sitting at her computer reading the screen "Her name is Dana, about 10 years ago her family was murdered and she was taken and tortured. After they found her they put her in a psychiatric institute"
Buffy's face twists up...bad memories.
"Maybe one of us should handle this one" Xander said seeing the look on Buffy's face.
Buffy looks at him and shakes her head "No I have to deal with this one..." pause "Angel" she whispered
Giles takes off his glasses and begins to clean them "Maybe one of us should handle this"
"NO!!, This one's mine. I wanna know why" Buffy says harshly "Plus you guys have other things to do, and we have to do this now"
The phone rings some where in the house.
Giles puts his glasses back on "So when do you leave then?"
"Signorina Summers?" called Buffy's maid
Buffy turned to the Maid "Sì Amalia"
"Il telefono" Amalia replied
"Grazie...Excuse me Guys" Buffy said leaving the room
Entering the Main Area, Buffy picks up the phone.
"Ciao" Buffy says into the phone
"Is this Buffy Summers" came an urgent male voice
Buffy's face twists in confusion "Who is this?"
"An Associate of Lex Luthor's..."
"ALEX...what's wrong with Alex?" Buffy cries into the phone
"Mr, Luthor has been institutionalized by his Father. A few days ago he ordered me to contact you is something should happen to him" the man said
"WHERE IS HE?" Buffy shouts into the phone
"Belle Reve Sanitarium, Metropolis. He is under the care of a Dr. Foster..."
"Why is the happening? Who are you?" Buffy called
Dial Tone
Buffy hangs up the phone and walks back into the room, shock and confusion written all over her face. The Scoobies who had continued the meeting looked up.
Willow stands ups "Oh God...Buffy what's wrong?" she asked going over to the Slayer
Buffy swallows her tears "Alex"
Willow shakes her head "Alex?...Xander?...Xander's right here"
Buffy looks up at Willow with tear filled eyes "Not Xander"
"Then who?"
"Alex...Lex Luthor..." Buffy sniffed
Willow shares a look with the Gang.
"He like the richest boy in the world, Kinda like Richie Rich" Andrew said
They ignore him
"Buffy how do you know Lex? and what's wrong to him" Willow asked pouring a cup of tea and handing it to Buffy
Buffy takes a sip of the tea "Remember when I told you my parents put me into a clinic?"
"Yeah you said they did it right after you told them about being a Slayer" Xander replied
Buffy wipes her eyes "Yeah well I met Lex there, he was the only one that believed me?"
The Gang shares a look.
"He's not crazy, he just has some major issues with his Dad" Something dawns on Buffy.
The guys said Lex told him to call her, He knew something was going to happen to him.
"His Father" Buffy whispered
"What about his Father?" Willow asks
Buffy jumps up from the chair, going into full Slay Mode.
"His Father did this to him" She said pacing the room. She stops "I have to go to him.
Giles still not understanding the full situation agrees, understanding this is something the Slayer had to do on her own. "Of course you should go"
"What about Dana?" Xander asked, not comfortable with Buffy running off without an explanation
"We're take care off it" Willow jumps in
"How?...You have to go back to teaching Hogwarts...Giles is Training Watchers, and I have Slayers to find in Africa" Xander protests
"He's right" Buffy whispered looking at the floor clearly upset.
"Oh Buff" Willow said pulling her into a hug.
Xander and Giles remain silent.
"I...I'll do it" came a voice across the room
They all turn to look at Andrew.
Andrew stands "Even though I do not know the way"
They continue to look at him.
TBC. Buffy heads to Metropolis.